Torrita di Siena, 20th April 2022
Plastic is literally flooding us and poisoning terrestrial and marine ecosystems. Not only that, plastic also threatens the climate and our health. Every year eight million tons of plastic are poured into the world's oceans, with disastrous consequences for the entire planet. To counteract this environmental catastrophe, radical and shared interventions are necessary, and this is why AP Italian Luxury also puts itself on the side of the environment, committing itself in the first place to reducing the use of plastic.
PLASTI-CUT: with this plastic free action, AP has launched a program for the reduction of plastic consumption, eliminating the disposable one from our company canteen, vending machines and common spaces, replacing it with more sustainable materials.
"It is a real revolution, under the banner of friendship between man and the environment" – the founder Alessandra Perani underlines with satisfaction – "The added value of these decisions, is of course also of an educational nature. We encourage our employees to give up "disposable" products, to equip themselves with personal containers or glasses for the consumption of drinks and, if it is not possible to do otherwise, products from recycled materials".
To face the challenge of plastic waste, we need a change in the behavior of all of us. For this reason, AP Italian Luxury is committed to promoting lasting and impactful positive change.
The new micro-filtered mineral water dispenser benefits all employees and visitors. This novelty, together with the 100% recycled and recyclable dixie cups in the coffee machine, allow you to combat the environmental impact of plastic and reduce the carbon footprint. The commitment to combat disposable plastic continues in the company by adopting the separate and systematic collection of waste in offices.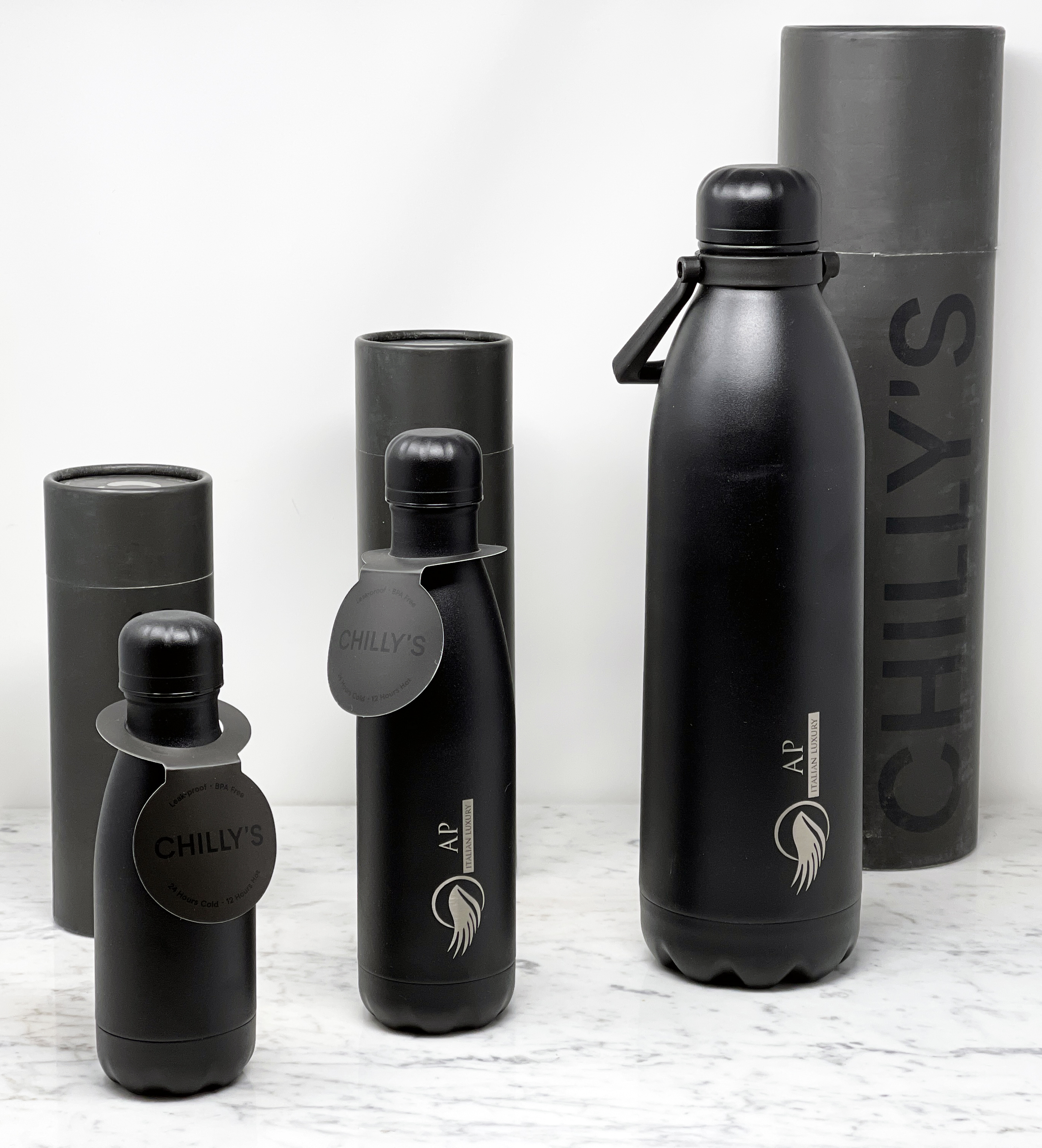 To further reduce the environmental footprint in terms of plastic footprint, AP Italian Luxury has given every employee a Chilly's bottle customized with the reusable steel company logo. "Every action counts, starting from the use of a reusable bottle we promote conscious behaviors in our company", says co-founder Stefano Brasini. "By stepping up our efforts in this area, we aim to eliminate disposable plastic as much as possible".
Alessandra and Stefano also state "Our vision for the future and our action plan outline the commitment and approach of AP Italian Luxury to address the challenge of waste from plastics. We are determined to consider every possibility to overcome this difficult challenge and adopt different solutions that can have an impact right now. We believe in the value and use of recyclable and compostable materials based on paper and biodegradable polymers".
Seemingly small gestures such as eliminating disposable plastic from a company's offices can make a great contribution to environmental protection. Being sustainable is part of the mission of AP, the choice to adopt sustainable policies even in everyday office life, is linked to the growing importance that everyone in AP Italian Luxury attaches to sustainability, and above all as a commitment to the protection of the environment.
Through a more conscious attitude, AP Italian Luxury aims to decondition automatic behaviors and to make a gesture in relationship with Mother Earth.