Another success for Morpheus Adivsor s.r.l. that manages the AP Italian Luxury brand, included for the second consecutive year in the list of Growth Leaders drawn up by Il Sole 24 ORE and Statista, dedicated to Italian companies that in the three years 2017 -2020 have had higher growth in turnover.
The expected ranking, which every year puts in line the companies with a higher rate of economic development, able to better interpret the needs of the markets and to expand, confirms the positive growth trend of AP Italian Luxury – MORPHEUS ADVISOR SRL, with a growth rate of between 2017 and the 2020 has arrived at +83,06% (Cagr index), which sees the company at 66° place on 450 companies.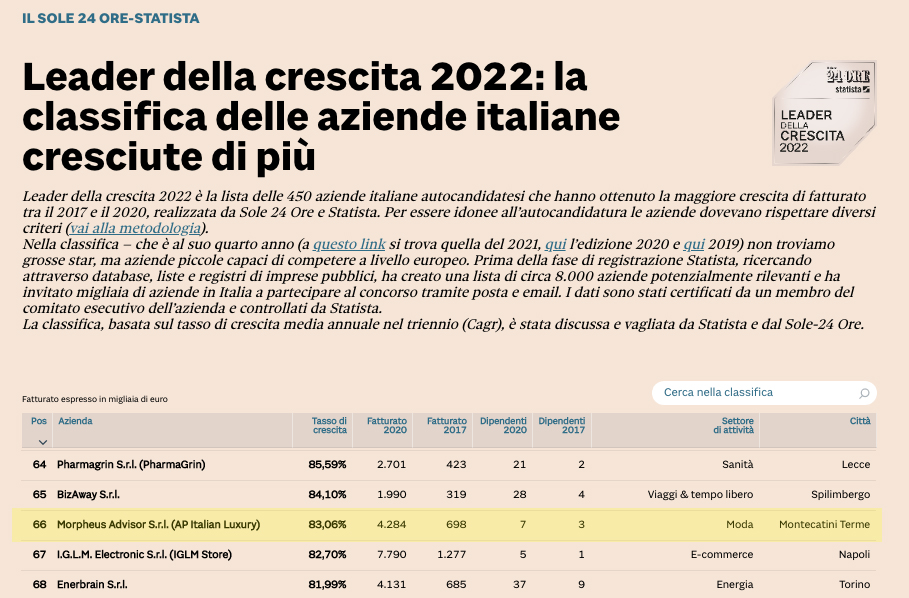 Founded in 2013 by Alessandra Perani and Stefano Brasini, AP Italian Luxury has managed in a few years to expand its customer portfolio, operating in well over 30 countries around the world and passing from one to three commercial divisions: Fashion, Cosmetics and Eyewear. Today AP Italian Luxury proposes itself as a leading company in the B2B wholesale trade, specialized in the world of fashion and luxury, offering a range of professional services for online and offline operators with the aim of always providing the best skills in matter of buying. Results destined to record constant growth over time.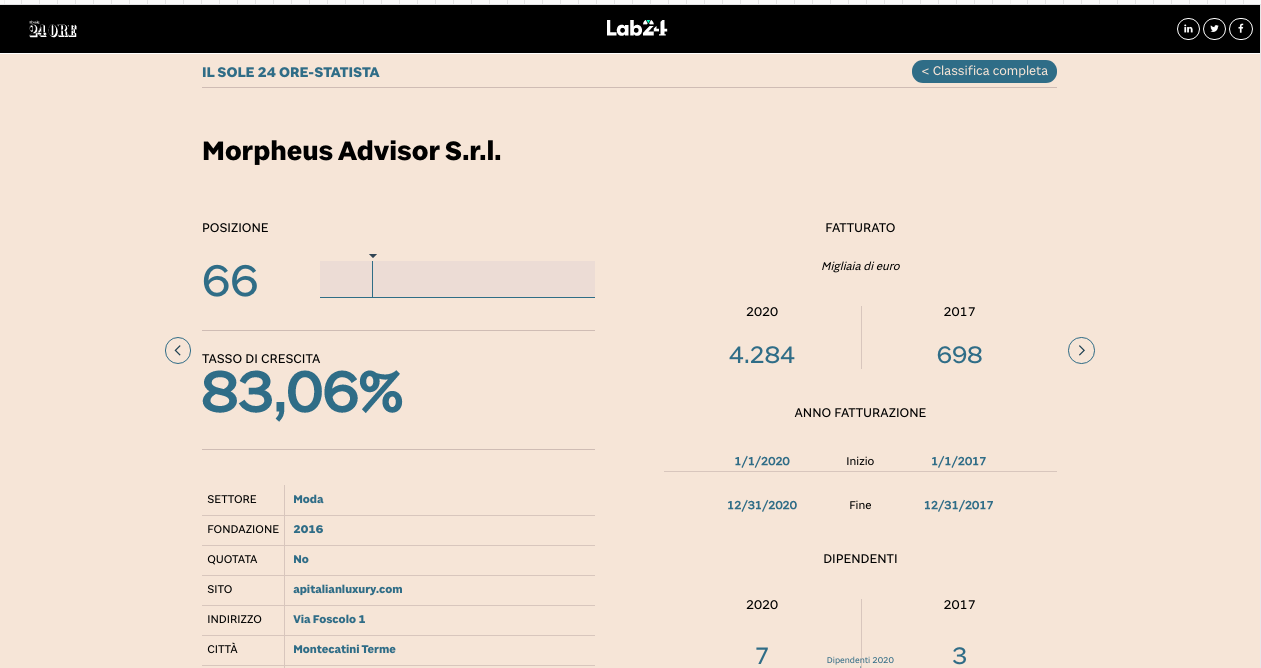 A period like this represents an important challenge where research to grow is focusing on innovation "The key is to bet on continuous innovative strategies, without fossilizing on anachronistic modus operandi. The trust we receive from our customers year after year is what spurs us to look to the future with even more grit and determination, to constantly improve our reality, through increasingly ambitious growth goals", says Stefano Brasini, CFO & Founder "For us it is an important recognition that makes us understand that we are going in the right direction. A culmination of a path made of commitment and professionalism and, at the same time, a new starting point to improve further. We grow because we anticipate the future". 
Being a "Growth Leader 2022" is a public recognition that places AP Italian Luxury – MORPHEUS ADVISOR SRL among the most dynamic companies in Italy, and all this can translate into new business opportunities, new partners and customers.
Alessandra Perani, CEO & Founder: "Being one of the awarded companies makes us extremely proud and that push us to continue to do better, innovating and growing, despite a context deeply changed since February 2020. This important recognition gives great value to the commitment so far, confirming how fundamental it is to invest in a model oriented to healthy business growth, with a constant cash generation to allow self-financing. The strong growth in revenues is the result of the commitment, dedication and perseverance that my team and I dedicate every day to achieving the goal set".
An extraordinary recognition, as extraordinary is the story that brought us here.
The complete ranking is available on the paper edition of Il Sole 24 ORE and online on www.ilsole24ore.com
Alessandra Perani, il sole 24 ore, leader della crescita 2022